Optimized purpose-built compute to support our warfighters with innovative training and simulation solutions.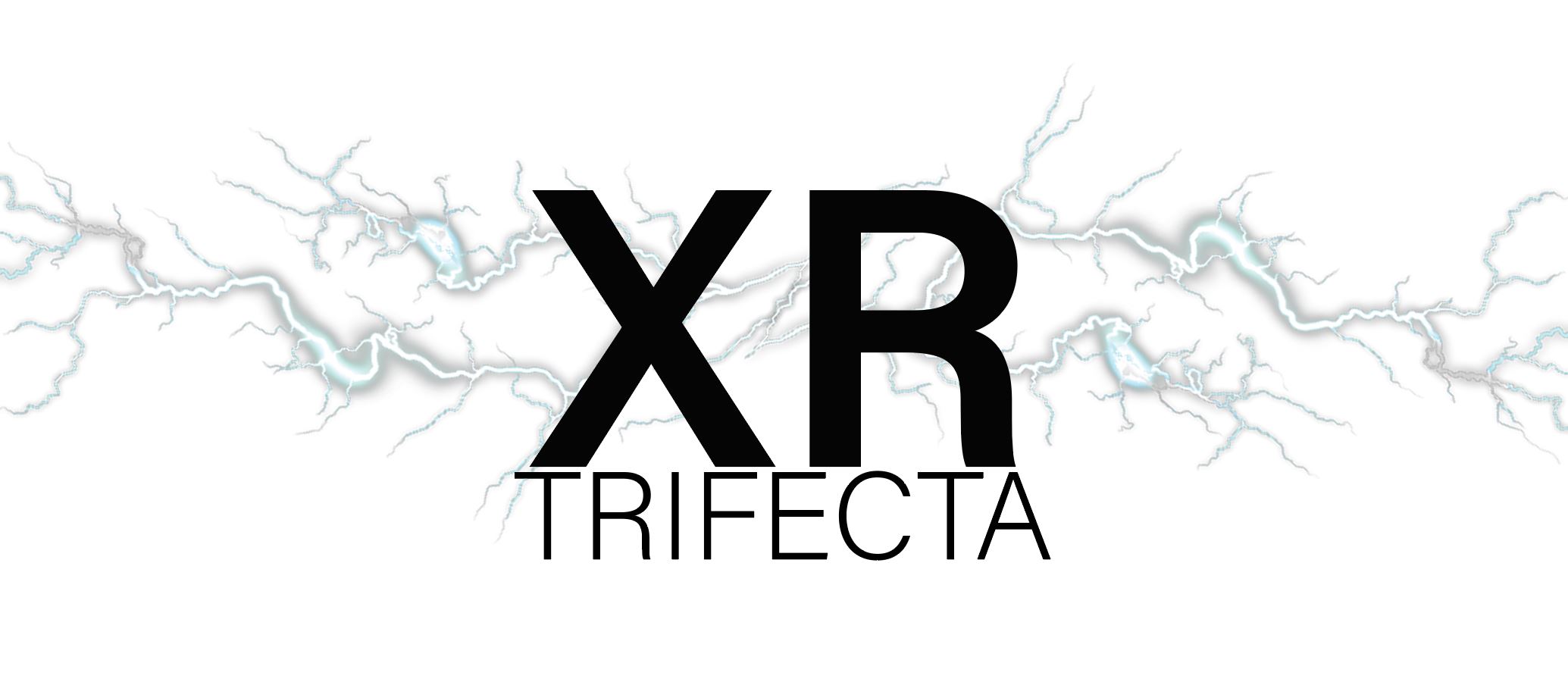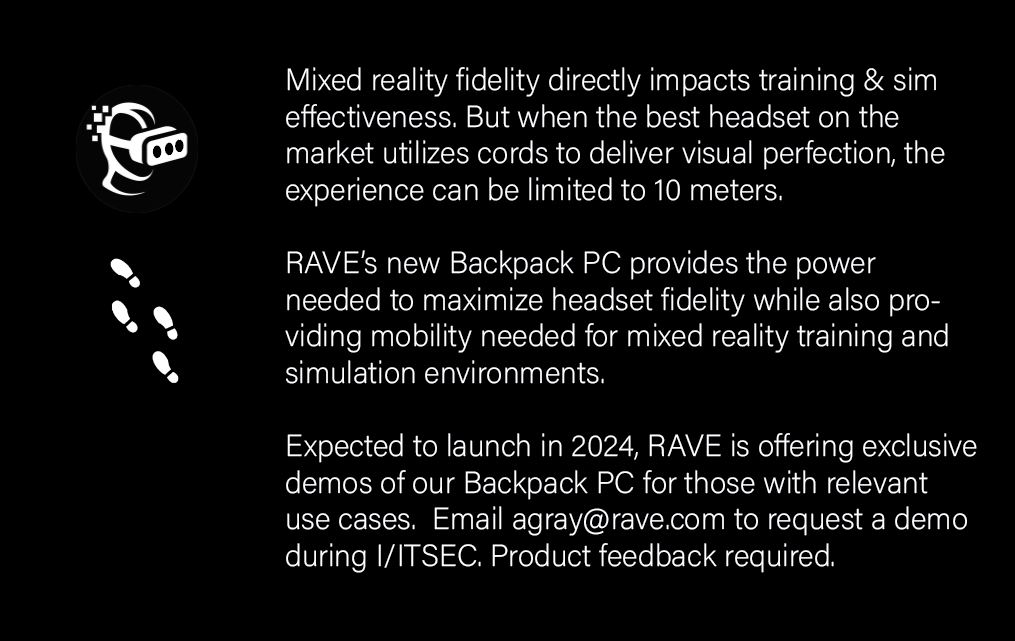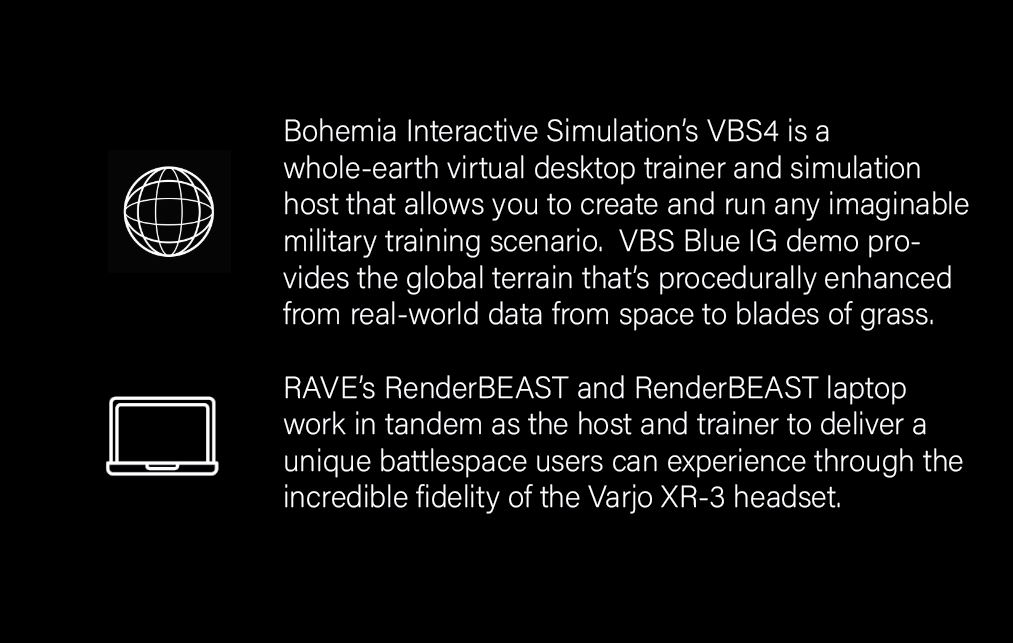 TAA Compute: From rackmounts to laptops, RAVE systems are TAA Compliant and assembled in America. We also offer TAA headsets for all of your program requirements.

RenderBEAST: Small form factor workstation unleashes incredible power for the most demanding image generation requirements with reduced size, weight, and power (SWaP). Perfect for immersive training environments and classrooms.

RenderBEAST XLR and XLT: MultiGPU powerhouse in rackmount (R) or tower (T) form factors can run up to 7 GPUs in a single chassis with custom heat shroud and cooling systems. Optimized integrations result in maximum power and reduced processing time - all in under 20amps. Created for photogrammetry and GIS heavy compute requirements, the RenderBEAST XLR and XLT is optimized for lightning fast image generation power.

Backpack PC: NEW 2024 compute solution provides mobility for mixed reality training and simulation for the most demanding and highest fidelity headsets.

TAA Laptop: Power and portability when resources are limited.

Tri-Screen: Portability without sacrificing screen display. Upgraded version now includes custom audio. TAA 2U and 4U servers: Our best sellers, fully customizable to program requirements.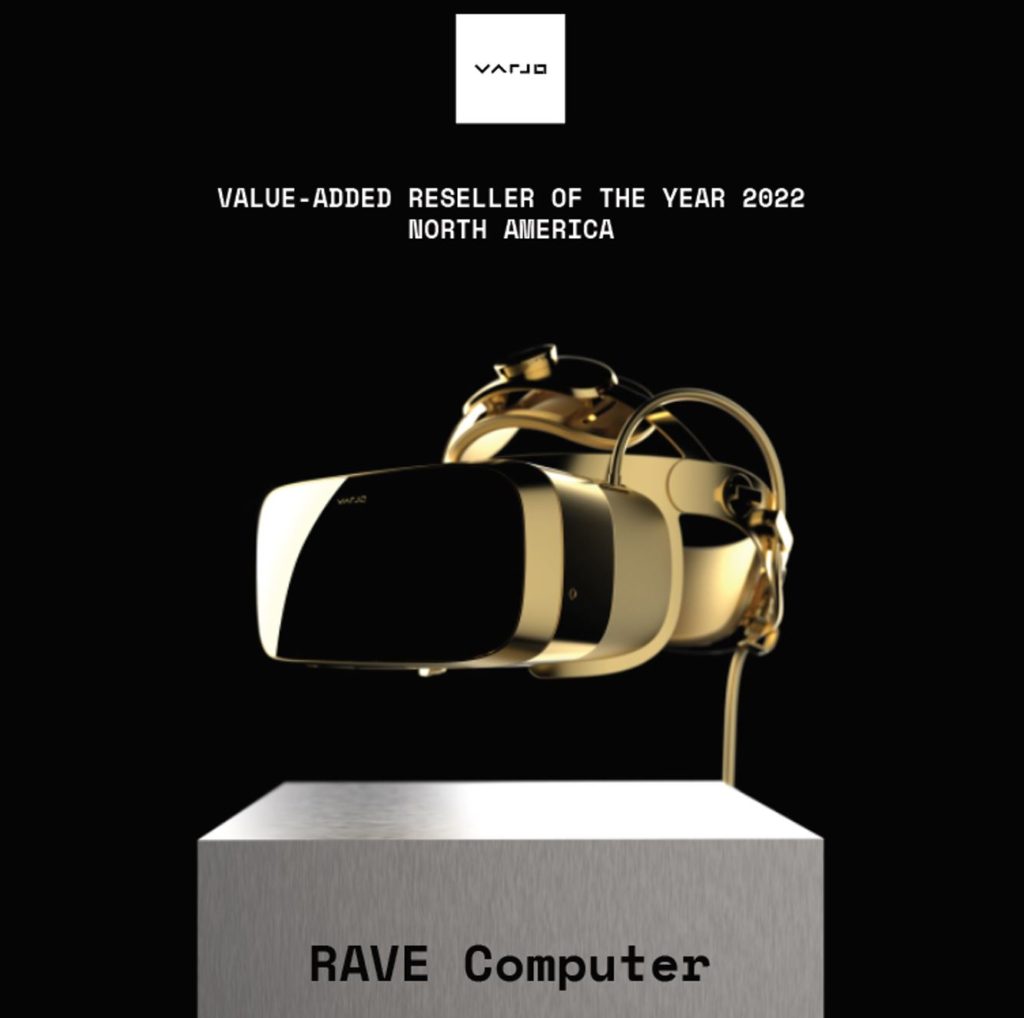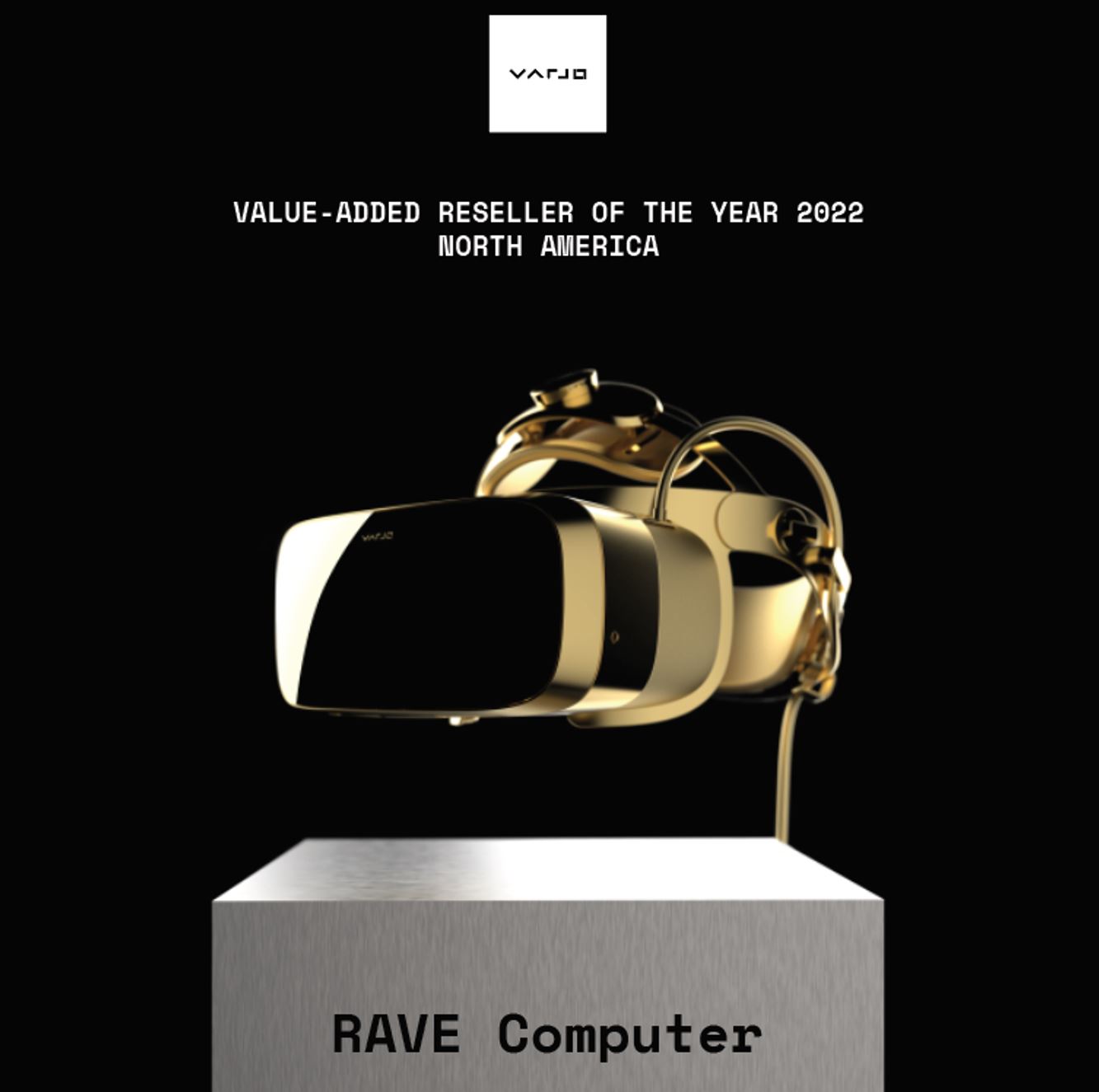 RAVE's elite partnerships with industry leaders like NVIDIA and Varjo provide the confidence you need that your hardware is certified to perform as expected.
As Elite Partners, RAVE has firsthand knowledge and early access to new products for testing and benchmarking to help us ensure your BOM is always optimized for your use case.
RAVE proudly sits on the NVIDIA Federal Advisory Board, and is the exclusive Varjo Elite Reseller in North America.
Our goal is to serve as a trusted advisor and extension of your team. We reach our goal when you exceed yours.

Our exclusive RenderBEAST XR Bundle includes the most powerful GPUs from NVIDIA and your choice of HMD including the latest immersive HMDs from Varjo. Accessories include two base stations, tripods, monitor, and keyboard/mouse all custom packaged in a compact, single person lift with wheels and a telescoping handle.
Available options include TAA and Non-RF for the most discreet program requirements.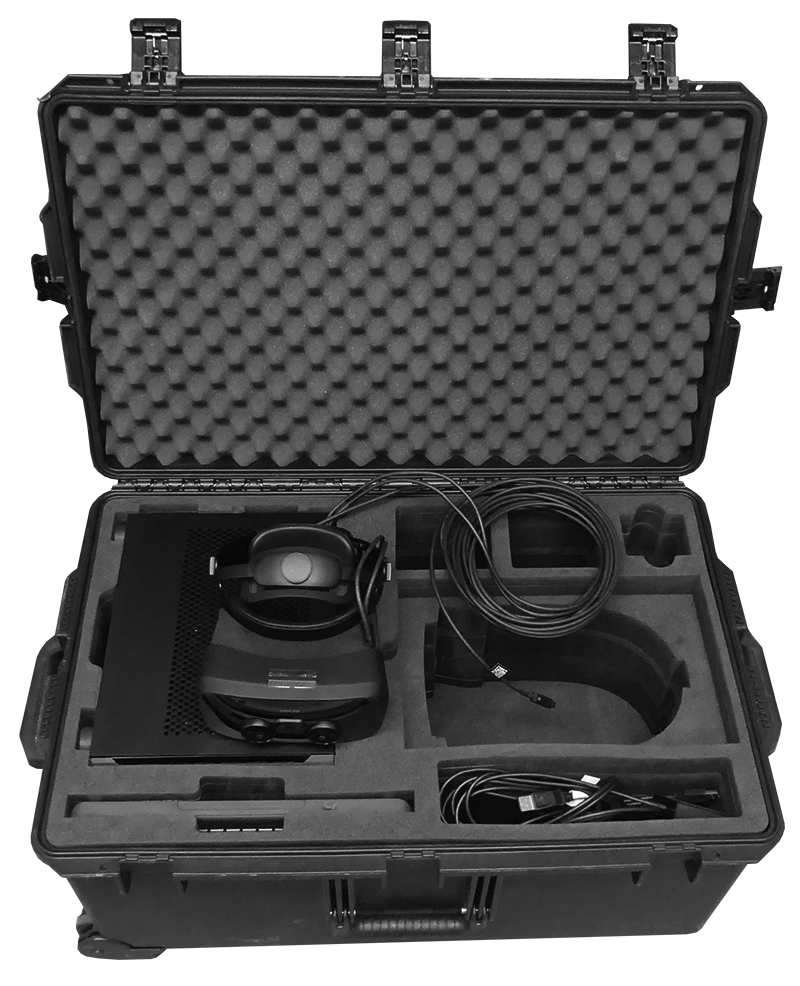 Founded in 1988, RAVE Computer is a woman-owned small business based in metro Detroit, MI.

We're on a mission to help people overcome challenges through innovation, and we've successfully accomplished our mission for over 35 years through optimized, purpose-built compute. We have what it takes to get the job done while being small enough to care about the details that matter to you. RAVE strives to serve as an extension of your team as trusted advisors managing locked BOMs, technology life cycles, and navigating supply chain constraints.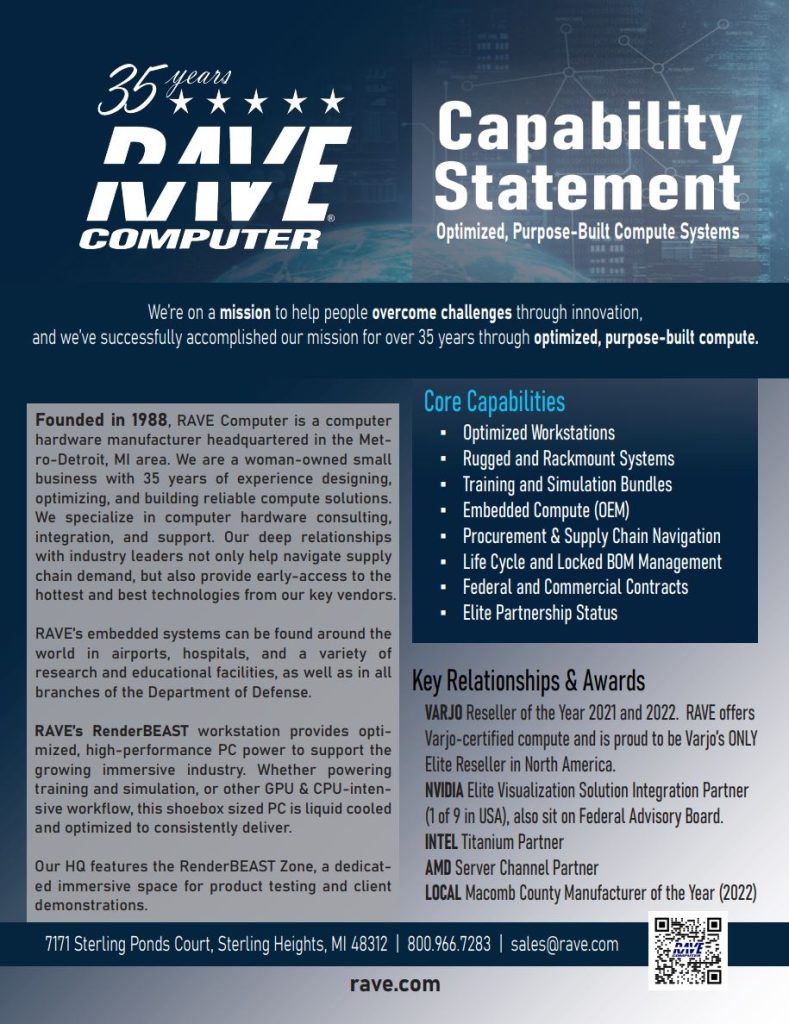 Optimized Workstations
Rugged and Rackmount Systems
Training and Simulation Bundles
Embedded Compute (OEM)
Procurement and Supply Chain Navigation
Life Cycle and Locked BOM Management
Federal and Commercial Contracts
Cage Code: 0KYY5
DUNS: 18-657-5981
SAM.GOV ID: MSH7ZEHMG531
NAICS Primary Code: 334111
ITAR Registered:  M28064
ISO 9001:2015 Certified
Eurofins MET Certification
Pursuing CMMC 2.0 Level 2 Certification
Like what you see and ready to join a thriving small business?
We're always looking for top talent to join our team in a variety of roles – posted and unposted.
Although we don't currently have an open position posted, we encourage interested candidates to email careers@rave.com – or even better drop by Booth #1059 during I/ITSEC and start the conversation with any of our team members.
RAVE PROUDLY SUPPORTS OUR WARFIGHTERS

Thank you for our freedom.
















RAVE is a proud supporter of JOSH (Just Our Soldiers' Helpers), a woman-founded non-profit dedicated to increasing morale of deployed U.S. service members from all branches of the military by providing care packages with letters and name-brand items not readily available during deployment.