Experts in building ruggedized computer hardware for over 30 years
Supply chain challenges, performance optimization issues, and product selection can be daunting––particularly when it comes to researching your options with purpose-built computers in mind.  This is why organizations of all sizes choose to partner with RAVE. We understand that unique objectives require a tailored approach, and we've offered this service for over 30 years. Since 1988, we have built a reputation as a trusted advisor to our clients in delivering the solutions that help their programs succeed, all the way from consultation until a program's lifecycle is completed.
Tailored Solutions from a Trusted Expert
What makes us unique? We specialize in creating and integrating purpose-built computer hardware for organizations of all sizes, all scopes, across multiple industries. Our elite partnerships with technology OEMs mean we have access to technologies often prior to their release into the market, and we have direct access to senior-level OEM product engineers. We leverage these insights to craft solutions for our clients, resolving bios/compatibility issues as we integrate products from multiple manufacturers, while mitigating the supply chain issues. This also nearly always involves managing thermal, acoustic and mounting considerations. We are dedicated to recommending the best possible solution for our clients with quality and performance as our highest priorities.
Innovate with us. Join our team.
We are a team of innovators. It's in our DNA to discover and deliver solutions that help shape the future. We are growing. If you would like to work with exciting technologies and customers, we invite you to learn about opportunities to join our team.
Founded in 1988, RAVE® is a computer hardware manufacturer. We integrate world-class computer system solutions, offering Commercial off-the-shelf (COTS) and custom-engineered options tailored to client requirements. We support both the Defense and Commercial industries and other organizations that want computer solutions that meet their specific requirements, with performance optimized for their specific applications.
Our seasoned Product Development team operates in our onsite engineering lab where masterful computer technology solutions are configured in new, innovative ways. Our product engineers have a laser focus on innovation, creating unique systems that are consistently smaller, lighter, faster and optimized for high performance. As a technology partner to critical component OEMs including NVIDIA, Intel and various HMD manufacturers, we preview new technologies prior to their commercial launch. This provides us with key advantages in problem-solving, compatibility testing and optimization.
Each of our systems is thoroughly tested for reliability and hardware/software compatibilities to ensure the highest level of quality.
We welcome organizations to leverage our technical expertise, strategic partnerships, and program experience.
RAVE is located in Sterling Heights, Michigan, with a 36,000 square foot facility designed to accommodate workflows and flexibilities as needed.  We are ITAR- and ISO 9001-2015 Design-certified with state-of-the-art ESD technologies.
Our Technology Integration Center is fully equipped with power buses and network switches at each workstation, enabling each technician and engineer to operate independently. Its flooring is permanently coated with electrostatic discharge material to prevent damage to systems and components. Each workstation and burn-in rack is also static dissipative and fully grounded to protect against possible static electricity damage.
Each workstation features a dedicated Keyboard-Video-Mouse switch so that all computers on the technician's rack can be controlled with a single console, which improves manufacturing efficiency while reducing power consumption.
Our 30,000 square foot Corporate Warehousing and Distribution Facility includes three truck wells, allowing for repetitive stocking of inventory and the flexibility of capturing larger projects.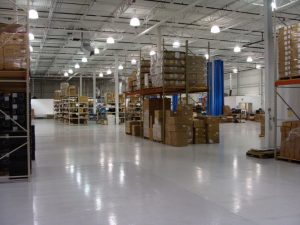 RAVE Computer is proud to be recognized as a leader and innovator in the computer industry. We've earned the honor of being named Michigan Technology Company of the Year and Partner of the Year nine times over the last decade, including multiple times with Intel Corporation and NVIDIA.
In terms of our design approach, we initially listen to our client's requirements, points of pain and ideas including budget, performance, environment and lifecycle considerations. We then function as a technology consultant, helping identify different alternatives and technology choices. We are vendor-neutral. We then provide a quote including BOM and availabilities. This intelligent flexibility is something that our customers simply cannot find with other major manufacturers.
Below is a sample of the types of solutions that RAVE delivers. Please call us to for additional product options.