Providing industry-leading performance, energy efficiency, scalability, value, and support, RAVE Computer provides perfect hardware for a wide range of portable workstation solutions. Used by many small businesses as well as many of the world's biggest companies, RAVE offers a wide variety of form factors and features, making it perfect as a building block of a modern, scalable immersive technology stack. When it comes to immersive, desktops, portable workstations, ruggedized,  integration, or rackmount,  make RAVE your first choice in computer hardware and integration.
Compatibility and power to spare for all advanced HMD's
Whisper quiet low decibel running even under full load
Portable Workstation Samples
Below is a sample of the types of solutions that RAVE delivers. Please call us to for additional product options.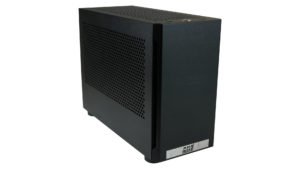 RAVE created the RenderBEAST™ as a no-compromises workstation PC to meet the demands of high-performance computing, AI and deep learning, professional design, rendering, modeling, simulation or VR-enhanced training – all packaged in desktop and portable solutions. RAVE is the leading innovator of high-performance workstation PC's, VR hardware, rendering systems, and servers purpose-built for engineering, product
Read More »