RenderBEAST Unleashed: The Powerhouse of Extended Reality (XR) and Designer Experiences
Roughly the size of a shoebox and the price of a high-end laptop, the RenderBEAST™ portable workstation delivers unparalleled power, durability, speed and stealth for world-class Extended Reality (XR) experiences. RAVE Computer rigorously tested and optimized the RenderBEAST PC to outperform and outlast the competition while maintaining a compact and lightweight design. Whether you need one or 100+ workstations, each order is flexible and tailored to your  requirements.  
Why Choose RAVE Computer?
Our woman-owned small business specializes in customized, high-performance computers and turnkey compute solutions for embedded OEMs and the defense industry. Celebrating 35 years as a successful small business in Metro-Detroit, RAVE has proven itself a dependable technology partner for the rapidly expanding immersive industry.
Despite global uncertainties, our decades of experience and enduring relationships help us to thrive. We utilize our strong bonds with global leaders like Intel, NVIDIA, AMD, Varjo, and HTC so our clients gain early access to cutting-edge technologies and successfully navigate supply chain demands. As one of only nine NVIDIA Elite Visualization Partners in the USA, RAVE is at the forefront of product testing, end-of-life solutions, and HPC innovations.  RAVE sits on the NVIDIA Federal Advisory Board, and is pursuing CMMC 2.0 Level 2 certification, underlining our commitment to supporting government programs and cybersecurity excellence.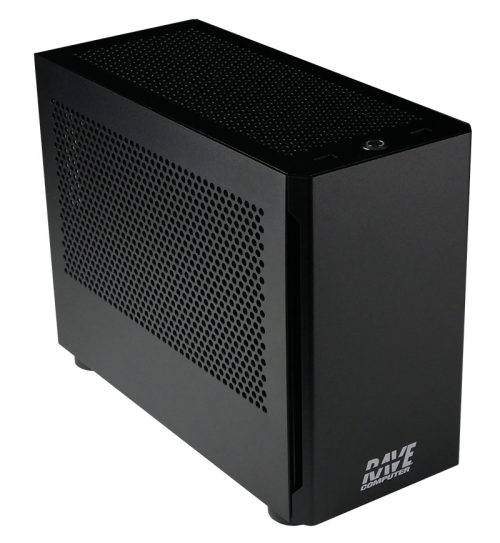 What are RenderBEAST Benefits?
If you're using a high-end laptop or COTS workstation but find it slow, noisy, or warm while rendering graphics or immersive scenarios, the RenderBEAST will simply be a game changer. It has the capacity to power programs that designers, engineers, scientists, and artists need to meet the most graphics and compute-intensive workflows, including: 
AI and deep learning 

Simulation or virtual reality (VR) enhanced training

 

Professional design

 

Rendering

 

Modeling

 

CAD

 
It may be small and whisper-quiet, but the RenderBEAST packs a big punch with power and flexibility to handle the most complex specifications. Its durable, portable, and compact design makes it an excellent choice for challenging conditions. Coupled with a 240mm liquid cooler, it ensures stable performance even when overclocking.  No wonder you'll find RenderBEASTS in diverse industries and environments such as military and defense, manufacturing, airports, construction, medical facilities, science labs, industrial sites, astronomy, and architecture.  
Immersive simulations are the future of training for both the private and public sectors. Particularly in a competitive labor market, XR programs offer faster, more cost-effective, and safer training alternatives to physical testing. Moreover, organizations will achieve greater training success when they invest in technologies that consistently deliver realistic and accurate immersive experiences.
As an Elite Varjo-Ready PC Partner, RAVE provides exclusive plug-and-play hardware bundles that support the Varjo XR-3 and XR-3 Focal Edition – the highest-fidelity and most-demanding professional HMDs on the market.  The RenderBEAST Immersive hardware bundle includes your HMD of choice, RenderBEAST PC, monitor, keyboard/mouse, controllers, and lighthouses with tripods all packed into a single custom foam Pelican case with telescoping handle for easy, one-person transportation.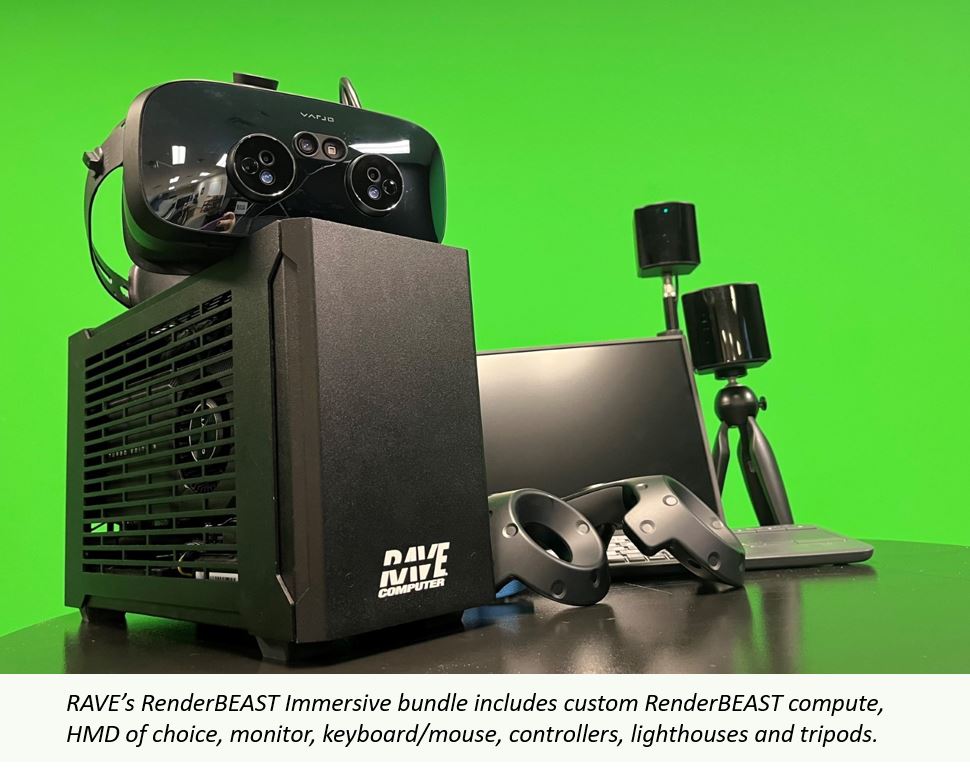 Maximize Your RenderBEAST with Powerful Customizations
Pairing the RenderBEAST with Varjo's TAA-compliant XR-3 Focal Edition HMD results in unrivaled visual precision for interacting and reading real-world instruments in mixed-reality scenarios such as flight training, vehicle maintenance programs, and Joint Terminal Attack Controller (JTAC) training.
At the heart of the RendBEAST's power you will find the best GPUs on the market – NVIDIA's Ampere and Ada GPU architecture. The RenderBEAST supports all NVIDIA RTX™ professional GPUs, including the RTX™ 6000 Ada Generation. The realism produced with the best GPU on the market, paired with the best HMD on the market, and powered by the RenderBEAST delivers a clear advantage.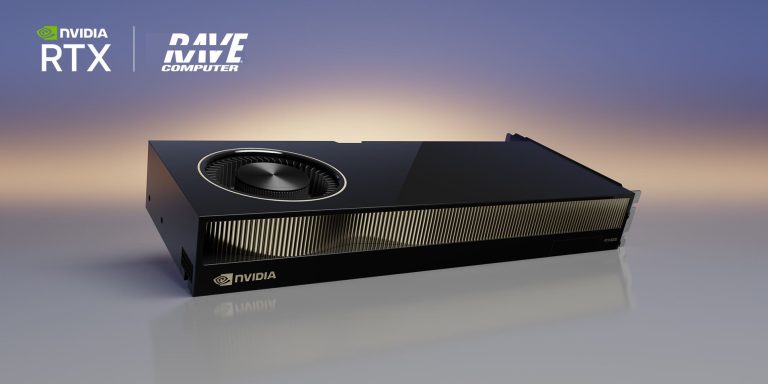 Recently, RAVE tested the impact of combining vGPUs with multiple RTX 6000 in various immersive environments. The results were a Tower and 4U (RenderBEAST XLT and XLR) systems that could be directly utilized for training and operational purposes. We found that these systems could significantly reduce processing time and system SWaP consumption. We continue to research how to maximize the number of simultaneous immersive users on a single system without compromising the quality of the training experience. Furthermore, we're investigating these impacts on real world terrain generation and photogrammetry use cases. Stay tuned for our findings, expected later in 2023.  
Heading to the Training & Simulation Industry Symposium (TSIS) 2023? Stop by RAVE Computer's Gold Sponsor booth in the TSIS expo hall to learn more about the RenderBEAST.  Alternatively, feel free to contact us to start customizing your order today. 
Ready to upgrade? We'd love to chat. RAVE is a solutions provider that can help you think outside of your tunnel and create an innovative solution that optimizes your computer performance where you need it the most. Connect with our experts if you'd like us to test-drive your software, are interested in coming to our office for a demo in our immersive RenderBEAST Zone, or would like to test drive our RenderBEAST immersive bundle in your own environment. Contact RAVE today!
Headquartered in Metro Detroit, RAVE Computer is a woman-owned small business specializing in computer hardware consulting, integration, and support for a variety of professional and government sectors. RAVE is ISO 9001:2015 certified, ITAR certified, and actively pursuing CMMC 2.0 Level 2 certification. RAVE was voted Manufacturer of the Year by Macomb County in 2022 and won Varjo VAR Reseller of the Year for both 2021 and 2022. RAVE has been in business for 35 years and is proud to be an NVIDIA Elite Visualization Partner. To follow our progress, connect with RAVE on LinkedIn, or visit our 'Contact Us' webpage to receive our newsletter for quarterly updates or let us know how we can help you achieve your immersive goals.