Seeing IS believing!  RAVE is hosting multiple, simultaneous, and collaborative demos featuring the latest technologies from Varjo and NVIDIA, powered by RAVE's optimized, purpose-built compute, the RenderBEAST™.  In addition to a single user demo on the Expo Floor in Booth # 107, RAVE has a large, collaborate demo room reserved near the Main Stage.  The Main Stage demo room can support two simultaneous users and a group to observe. Sign up now to reserve your spot and personally experience new demos and cutting-edge technology.  
Single User Demo:  One person, Expo Floor Booth #107 (10×10 space)
Collaborative Demo: Two people, Main Stage Demo Room (20×30 space)
Wednesday, October 19 • 11:35am – 12:20pm
Enterprise IT and security professionals discuss integrating and securing XR, wearables and related technologies, sharing lessons learned and best practices for overcoming the technical challenges of adoption.
What are the top cybersecurity risks for XR and wearables?
What cyber defense strategies are companies using today?
What are some common workarounds for challenges like connectivity, interoperability, limited UI, content, device management, etc.?
How to monitor security across devices and touchpoints
Privacy: User permission, data storage, and best practices
More: Role of IT and integration with legacy systems, security standards by industry, working offline, data anonymity and portability, authentication, credential exposure, etc
Speakers:
Brian Laughlin | Technical Fellow, Advanced Visualization, IT Architecture/Technical Strategy, Product Systems, BoeingJean-Baptiste Farge | Global XR Manager, Subsea 7Jonathan Hawes | Director of Emerging Opportunities, RAVE Computer (Moderator)Kurt Scheuringer | Principal Spatial Computing Solutions Architect, Emerging Technologies, Amazon AWSDrew Holbrook | Extended Realities (XR) Manager, Gulfstream AerospaceMichael Hinckley | Senior Systems Engineering Manager, Advanced Manufacturing Technology, Northrop Grumman
Immersive programs are ultimately only as good as the computers that power them.

RAVE optimized the RenderBEAST to deliver world-class AR/VR/XR experiences. Boasting whisper-quiet performance and a compact case, your customized RenderBEAST provides the flexibility and adaptability needed for your unique specifications. RAVE rigorously measures and tunes all aspects of the system to support power draw, acoustic output, and thermal performance targets to ensure you have a balanced system that can run in boost mode for extended periods.

The RenderBEAST Immersive Bundle combines your custom RenderBEAST with everything needed for immersive experiences on-the-go: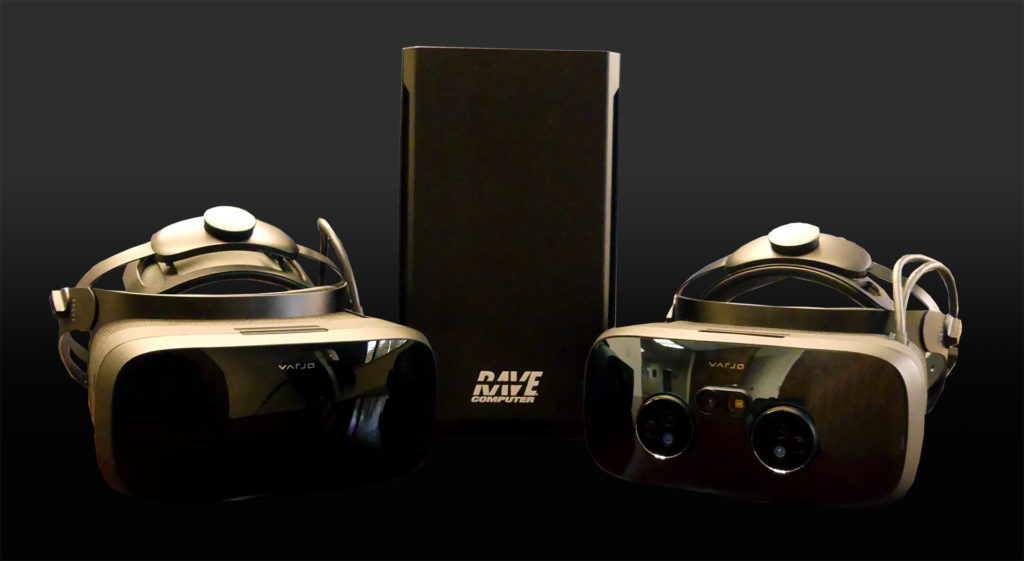 Immersive Bundle Includes:
Varjo XR-3, Aero, or other HMD of choice and offline license
RenderBEAST Compute
Latest Z-series motherboard, capable of overclocking the processor
Win11 for Intel architecture optimization*
Latest DDR5 memory*
Intel Core i9 processor, overclocked for ideal performance
NVIDIA RTX A-Series GPU.  Multiple options in stock!
Pelican case with custom foam
Peripheral kit: Two lighthouse base stations with mini tripods, USB-C Monitor, wireless keyboard and mouse combo, and two controllers
*Additional options available (i.e. Win10, DDR4, etc.)
"When Varjo wanted to do a roadshow to demonstrate our cutting edge XR-3, we chose RAVE's RenderBEAST for the best possible experience. The RenderBEAST provides a turnkey optimized solution with a reliable and proven platform. A small investment in better hardware can make up for a multitude of software sins." – John Burwell, Varjo, Global Lead Simulation and Training
"RAVE Computer's RenderBEAST harnesses and optimizes the power of NVIDIA RTX GPUs for maximum performance," said Lisa Bell-Cabrera, Director of Business Development XR, at NVIDIA. "As an NVIDIA Elite Visualization Partner, RAVE can provide turnkey immersive hardware solutions, which is a key advantage that we're proud to support." Lisa Bell-Cabrera, Director of Business Development XR, at NVIDIA
"RAVE Computer is an ideal partner, as they not only have strong technical skills, industry relationships and business acumen––but also share a similar set of cultural values," said Tristan Cotter, GM, North America, Varjo Technology. "RAVE feels like an extension of our team at Varjo, and it's exciting to see the investments they've made in immersive technology paying off." Tristan Cotter, GM, North America
Choose your partner wisely
RAVE Computer exists to empower people to overcome challenges through innovation, and we accomplish this by providing optimized, purpose-built compute solutions and immersive bundles. Supply chain challenges, performance optimization issues, and product selection can be daunting––particularly when it comes to researching your HMD options with purpose-built computers in mind.  This is why organizations of all sizes choose to partner with RAVE. We understand that unique objectives require a tailored solution, and we've offered this service for over 30 years. Since 1988, we have built a reputation as a trusted advisor to our clients in delivering the solutions that help their programs succeed, all the way from consultation until a program's lifecycle is completed. The world of professional visualization is evolving rapidly. Advanced requirements like real-time ray tracing, AI, compute, engineering simulation, and immersive VR is common across industries, while millions of professionals have shifted to working from home. With professional workflows constantly evolving, workstations are pushed to the edge—so cutting-edge solutions are needed.