RAVE Computer Honored as Varjo 'Reseller of the Year'
Second Year In A Row
PRESS RELEASE
STERLING HEIGHTS, Mich., (BUSINESS WIRE) Jan 31, 2023 – RAVE Computer today announced it has once again received the Reseller of the Year – North America award from Varjo Technologies.  Varjo, the industry leader in virtual and mixed reality hardware, awarded formal recognition to their top 2022 Value Added Resellers (VAR) at the 2023 Varjo VAR Global Summit in Helsinki, Finland last Thursday.  Varjo's global network of 55 commercial partners spans North America, Europe, and Asia Pacific with RAVE winning the top honor in the North American region. 
"RAVE Computer had a record breaking 2022," said Tristan Cotter, GM, North America, Varjo Technologies. "For the second year in a row, we proudly awarded RAVE as Varjo's North American Reseller of the Year.  RAVE is the definition of a partner, with aggressive growth goals; not only did they open their RenderBEAST Immersive Lab, but also tapped into their local community to broaden their relationships in manufacturing.  We can't wait to see what new milestones and heights we are able to achieve in 2023 as continue to grow 'Better Together'."
The Reseller of the Year recognition is given annually to Varjo partners who have demonstrated the best possible results in providing support and advice to customers in acquiring, setting up, and implementing Varjo's portfolio of highest-resolution VR/XR products.
"RAVE is humbled to once again earn Varjo's Reseller of the Year for North America," said Stacey Ferguson, President, RAVE Computer.  "We're grateful to Varjo for this incredible honor and collaborative partnership, and proud to be an extension of the Varjo team and brand. RAVE's mission to empower people to overcome challenges through innovation perfectly aligns with Varjo's best-in-class HMD offerings and overall philosophy of excellence.  Better together, we offer a complete turnkey immersive package that goes beyond reselling and truly creates an innovative solution that's been proven to maximize valuable resources in multiple industries."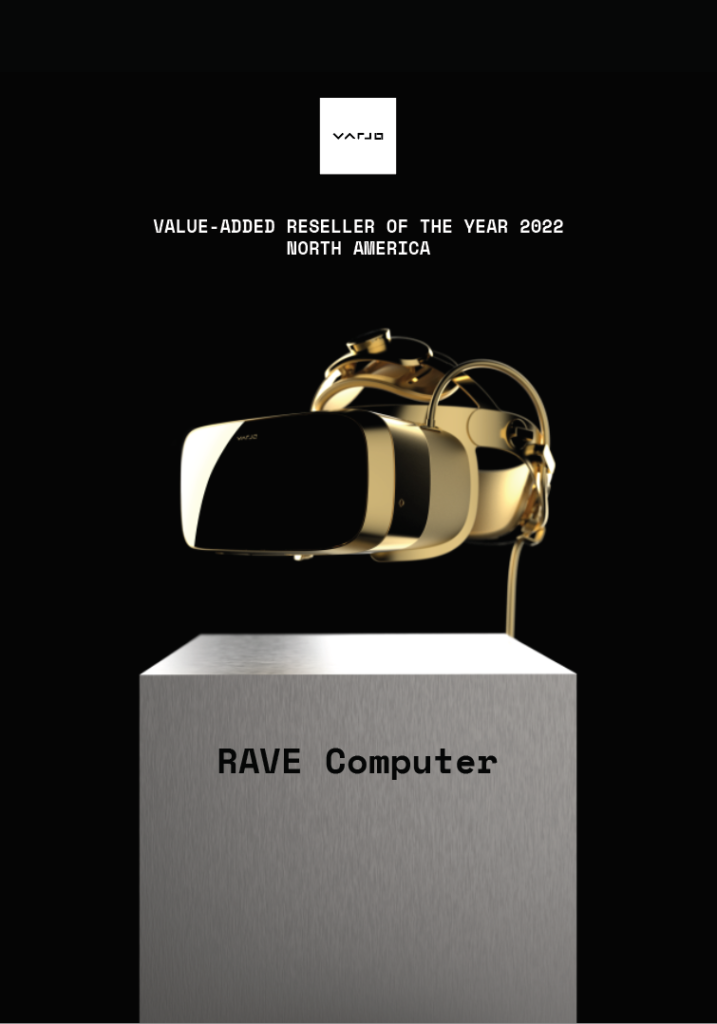 Together, RAVE and Varjo have seen the power of immersive technology transform how automotive and manufacturing industries train workers and design and produce goods.  On an even larger scale, immersive training and simulation has transformed the defense industry, resulting in saved time, money, and lives. 
In response to the increased demand of Varjo's XR-3 in the defense industry, Varjo has introduced a TAA-line of XR-3s that are produced in Finland, and more recently, the XR-3 Focal Edition, which is also TAA compliant and offers superior visual quality for advanced XR training use cases where seeing small text and illustrations on physical instruments close-up is mission-critical.  RAVE and Varjo will be hosting an XR-3 Focal Edition roadshow event in RAVE Computer's Metro-Detroit RenderBEAST Zone the week of March 6th, focusing on defense, automotive, manufacturing, and health care use cases.  Appointments are required.  Contact RAVE for additional information.  
Elite Partnerships Powered by Elite Solutions
As an Elite Varjo-Ready PC Partner, RAVE Computer offers exclusive plug-and-play hardware bundles that include Varjo HMD, RenderBEAST™  custom compute, monitor, keyboard/mouse, controllers, lighthouses, and tripods all packaged together in a single-person-lift pelican case.  
RAVE's deep relationships with technology OEMs such as Varjo, NVIDIA, Intel, and AMD give priority access to the most cutting-edge technology allowing extraordinary support for client solution lifecycle management. RAVE's Varjo-ready RenderBEAST PC boasts whisper-quiet performance and a compact form factor that lets users extract maximum value from a portable workstation to deliver professional-grade immersive experiences. 
Experience the difference.  RAVE's dedicated, on-site RenderBEAST Zone provides the perfect demonstration space to physically compare a varity of the latest HMDs in different XR/VR scenarios, including automotive, design, medical, training and simulation, manufacturing, and an interactive photogrammetry real-world environment.  Custom demonstrations of proprietary software can also be scheduled in advance.  With padded flooring and Chroma key green walls, the BEAST Zone is solely powered by RAVE's RenderBEAST computer for the ultimate XR experience. 
To learn more about RAVE's immersive bundles, learn more about the upcoming XR-3 Focal Edition Roadshow, or to schedule a demonstration and discuss how RAVE can help create a solution to power your vision, contact RAVE Computer at http://www.rave.com/varjo email info@rave.com or call (800) 966-RAVE (7283).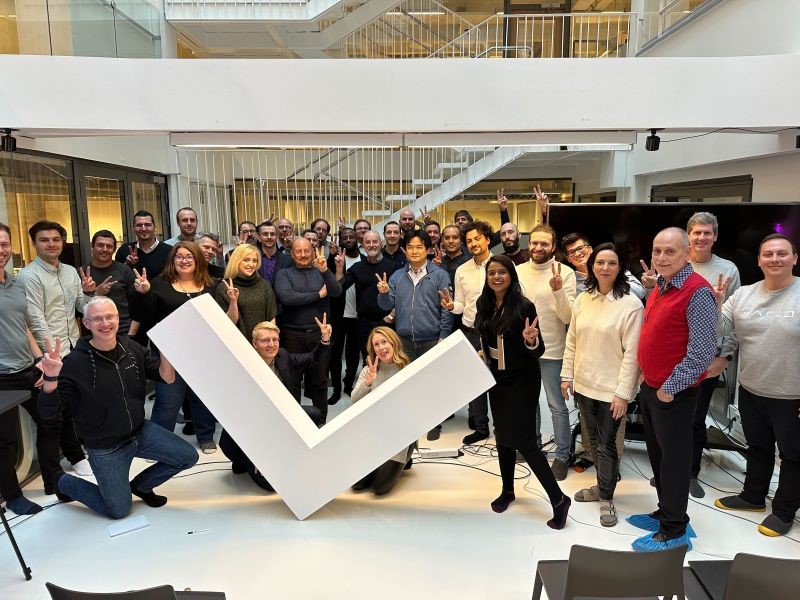 For over 35 years, RAVE Computer has helped people overcome challenges through innovation, specializing in the design, optimization, and integration of purpose-built compute solutions.  RAVE Computer strives to serve as trusted advisors and an extension of each client's team and vision by understanding each unique use case and creating optimized solutions. RAVE is a woman-owned small business. To learn more about our products and to reach out with a use case for collaboration and optimization, contact RAVE Computer at info@rave.com or call (800) 966-7283. Stay connected to RAVE Computer's latest news, views and announcements by visiting http://www.rave.com/ and following RAVE Computer on LinkedIn at: https://www.linkedin.com/company/rave-computer
About Varjo
Varjo (pronounced Var-yo) makes revolutionary VR/XR hardware and software that together allow you to see and experience virtual and augmented content just as clearly as you see the analog world around us.  Our virtual and mixed reality headsets take you to another level of performance and emotional immersion – recreating the exact feeling and conditions of real life, allowing you to perform better and learn faster.  www.varjo.com 
Media Contact
April Gray
(800) 966-7283
marketing@rave.com