RAVE Computer to Showcase Real-Time Collaborative Battle Simulation Over 5G at I/ITSEC, World's Largest Modeling, Simulation and Training Event
STERLING HEIGHTS, Mich.–(BUSINESS WIRE)–RAVE Computer, a leader in the development of purpose-built computing solutions, today announced it will showcase a real-time collaborative virtual battle simulation at I/ITSEC 2021, the world's largest modeling, simulation and training event. The showcased solution is the result of a collaboration between RAVE Computer, Kratos Defense & Security Solutions, Inc., Varjo, and Real-Time Innovations (RTI). It will feature RAVE's RenderBEAST compute, the Varjo XR-3 HMD, Kratos' immersive battle simulation content, and 5G communication technology by RTI.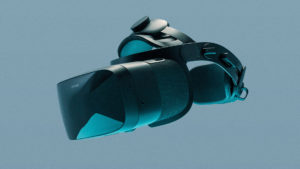 The demonstrations will feature three participants, operating in individual booths, over a 5G cellular network in a multi-participant battlefield simulation. Leveraging training and simulation content from Kratos, and RAVE's innovative RenderBEAST compute––the communications capabilities provided by RTI will allow all operators to participate in the simulated training together in one virtual environment––setting an example of how collaborative multi-participant training can be delivered regardless of the soldiers' geographically distinct locations.
"RAVE Computer's collaboration with Kratos Training Solutions, Varjo, and Real-Time Innovations reinforces our commitment to continuing to evolve the delivery of defense training," said Jim Powers, Director of Professional Services, RAVE Computer. "At I/ITSEC, the participants will be located in the same building. However, this solution will allow soldiers to collaboratively participate in immersive training directly from wherever they are located around the world––not only breaking down geographic borders––but truly enabling training at the point of need."
Battle Simulation Training Powered by RAVE RenderBEAST Compute
The battle simulation is powered by RAVE's Varjo-ready RenderBEAST compute, featuring the NVIDIA RTX 3090 GPU and Intel Core i9-11900K processor. The RenderBEAST is designed to be flexible, customizable and adaptable to customer specification. Boasting whisper-quiet performance and a compact form factor, it has been rigorously tuned to support power draw, acoustic output, and thermal performance targets to ensure customers have a balanced system that can run in boost mode for extended periods. This balanced approach delivers highly efficient workflows and lets customers extract maximum value from the workstation to deliver world-class, professional-grade AR/VR/XR. Additional customization can be made to optimize performance for specific customer applications.
See RAVE in Action at I/ITSEC
RAVE Computer is delivering innovative compute solutions across many I/ITSEC exhibitions. Visitors can see RAVE in action in the following exhibitions at the show:
Varjo: Booth 3010
Immersive Display Solutions: Booth 1768
Mass Virtual: Booth 3100
Kratos Defense & Security Solutions: Booth 1322
Real-Time Innovations: Booth 1307
Diamond Visionics: Booth 2000
VRgineers: Booth 2026
Attendees can also personally experience RAVE Computer's innovative tri-screen compute in combination with Varjo's new Aero HMD. Register for personal demos in the RAVE Computer booth number 3018 at: https://calendly.com/ravecomputer.
Training at the Point of Need
For more than 30 years RAVE has been a trusted advisor to Federal Intelligence, Defense, and Commercial sectors delivering cutting-edge computer hardware solutions optimized for high-fidelity training and simulation experiences. RAVE Computer solutions provide customers with the flexibility to train in traditional physical simulators, or also use more portable approaches that leverage HMD technologies that deliver a realistic, immersive, VR/XR environment while saving up to 90% in training costs. RAVE has extensive experience in modifying systems to meet the environments in which they'll operate, enabling customers to train at the point of need and move complex training into a true-to-life immersive environment. RAVE's training and simulation offerings include hardware for image generators, battle master controllers, GPU intensive applications, after-action review, basic skills trainer, table-top trainer, instructor operator station, terrain database, authoring, recording, and content development.
The Interservice/Industry Training, Simulation and Education Conference (I/ITSEC) is the world's largest modeling, simulation and training event. Held near the beginning of December in Orlando, Florida, USA, I/ITSEC consists of peer-reviewed paper presentations, tutorials, special events, professional workshops, a commercial exhibit hall, a serious games competition, and STEM events for teachers and secondary students. I/ITSEC is organized and sponsored by the National Training & Simulation Association (NTSA), which promotes international and interdisciplinary cooperation within the fields of modeling and simulation (M&S), training, education, analysis, and related disciplines at this annual meeting. The NTSA is an affiliate subsidiary of the National Defense Industrial Association (NDIA). Hence, I/ITSEC also emphasizes themes related to defense and security.
For more than 30 years, RAVE Computer has specialized in computer integration, with experience in performance tuning and modifications of systems to meet the environments in which they'll operate. RAVE Computer's deep relationships with technology OEMs give them early access to the most cutting-edge technology components. They leverage this expertise to deliver a unique consultative experience for their clients. RAVE Computer is a trusted advisor to government agencies and global brands, helping to shape requirements on the front end to save costs and issues over the entire solution life cycle. They support customers with product selection, life-cycle management, decisions about performance, size, weight, power, acoustics, thermals, COTS ruggedization, and more. Whether customers require an off-the-shelf product, or custom-engineered solution, RAVE Computer explores the specific objectives and challenges for clients to identify the best balance computing solution.
To learn more, contact RAVE Computer at info@rave.com or call (800) 966-7283. RAVE Computer's engineers and account teams are looking forward to learning about its customers' vision and creating an optimized solution to power the possible. Stay connected to RAVE Computer's latest news, views and announcements by visiting http://www.rave.com/ and following RAVE Computer on LinkedIn at: https://www.linkedin.com/company/107260.
Contacts
April Gray
(586) 939-8230
marketing@rave.com