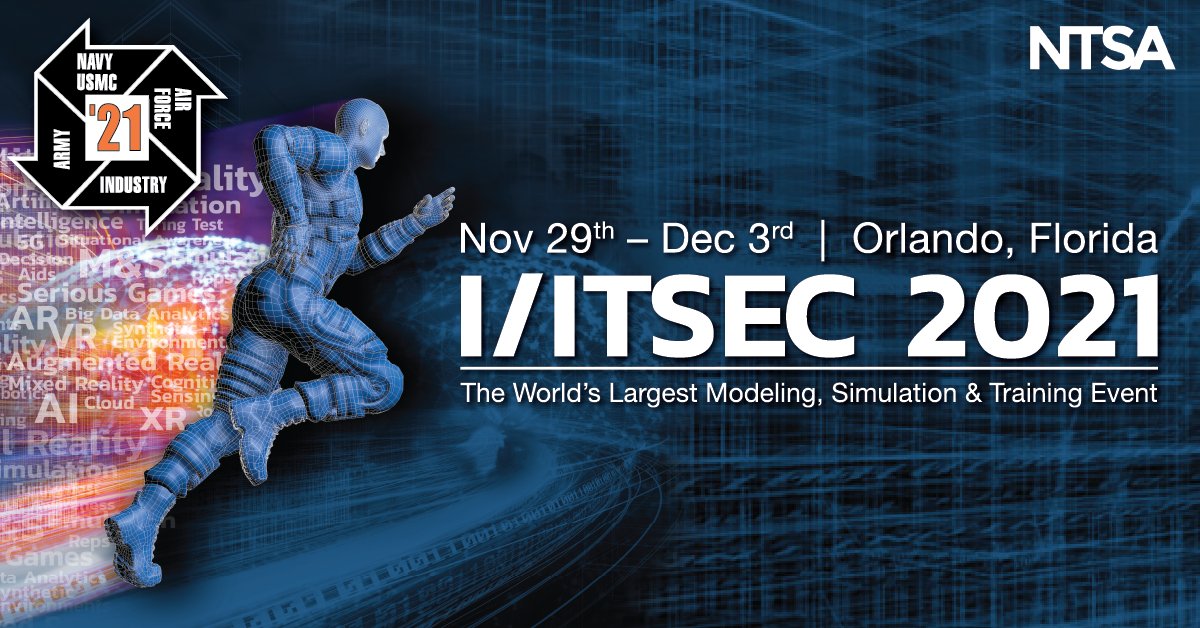 Powered By RAVE: Visit us at booth #3018
Seeing is Believing. Schedule a Personal Demo at I/ITSEC.
Join us at I/ITSEC to personally experience RAVE Computer's innovative tri-screen compute in combination with Varjo's new Aero HMD. Sign-up for personal demos in the RAVE Computer booth #3018.
Purpose-Built Immersive Technology
RAVE Computer is proud to exhibit at I/ITSEC 2021 in booth #3018. During the exhibition, we will showcase real-time simulations featuring RAVE's RenderBEAST compute, and the Varjo Aero HMD.
RAVE Computer to Showcase Real-Time Collaborative Battle Simulation Over 5G at I/ITSEC, World's Largest Modeling, Simulation and Training Event
RAVE Computer, a leader in the development of purpose-built computing solutions, today announced it will showcase a real-time collaborative virtual battle simulation at I/ITSEC 2021, the world's largest modeling, simulation and training event. The showcased solution is the result of a collaboration between RAVE Computer, Kratos Defense & Security Solutions, Inc., Varjo, and Real-Time Innovations (RTI). It will feature RAVE's RenderBEAST compute, the Varjo XR-3 HMD, Kratos' immersive battle simulation content, and 5G communication technology by RTI.
See RAVE in Action at I/ITSEC
RAVE Computer is delivering innovative compute solutions across many I/ITSEC exhibitions. Visitors can see RAVE in action in the following exhibitions at the show:
Win our Tradeshow Booth TV
Stop by the RAVE Computer booth (3018) to share your support of our warfighters and for a chance to win our 50" TV at the end of I/ITSEC. Simply stop by RAVE's booth (3018) and take a selfie on our Soldier Tribute wall which is located on the outside of our booth. 
Contest Rules:
 Take a selfie and publish it to LinkedIn
Use the hash tags: #IITSEC2021 and #RAVEComputer
Tag a friend or colleague 
Training at the Point of Need
For more than 30 years RAVE has been a trusted advisor to Federal Intelligence, Defense, and Commercial sectors delivering cutting-edge computer hardware solutions optimized for high-fidelity training and simulation experiences. RAVE Computer solutions mean customers have the flexibility to train in traditional physical simulators, or also use more portable approaches that leverage HMD technologies that deliver a realistic, immersive, VR/XR environment while saving up to 90% in training costs. RAVE has extensive experience in modifying systems to meet the environments in which they'll operate, enabling customers to train at the point of need and move complex training into a true-to-life immersive environment. RAVE's training and simulation offerings include hardware for image generators, battle master controllers, GPU intensive applications, after-action review, basic skills trainer, table-top trainer, instructor operator station, terrain database, authoring, recording, and content development.
About I/ITSEC
The Interservice/Industry Training, Simulation and Education Conference (I/ITSEC) is the world's largest modeling, simulation and training event. Held near the beginning of December in Orlando, Florida, USA, I/ITSEC consists of peer-reviewed paper presentations, tutorials, special events, professional workshops, a commercial exhibit hall, a serious games competition, and STEM events for teachers and secondary students. I/ITSEC is organized and sponsored by the National Training & Simulation Association (NTSA), which promotes international and interdisciplinary cooperation within the fields of modeling and simulation (M&S), training, education, analysis, and related disciplines at this annual meeting. The NTSA is an affiliate subsidiary of the National Defense Industrial Association (NDIA). Hence, I/ITSEC also emphasizes themes related to defense and security.